Share Article
Trick or Treating with Electric Bikes this Halloween
There's a new "trick" to get "treats" this Halloween, and it's called e-biking. As e-bikes become ever more popular, expect to see them used more often whenever a need arises – like traveling around the neighborhood this October. Going from street to street and trick or treating can be exhausting and cut into your candy haul if the roads are far apart. If you are chaperoning a group of kiddos, an e-bike can allow you to ride alongside the group and keep an eye on everyone from the street. Using an e-bike allows you to make the most of your night and remain high on energy well into the evening. Today we will cover some -bike-specific tips for trick or treating this Halloween, whether you are the one getting the candy or just watching!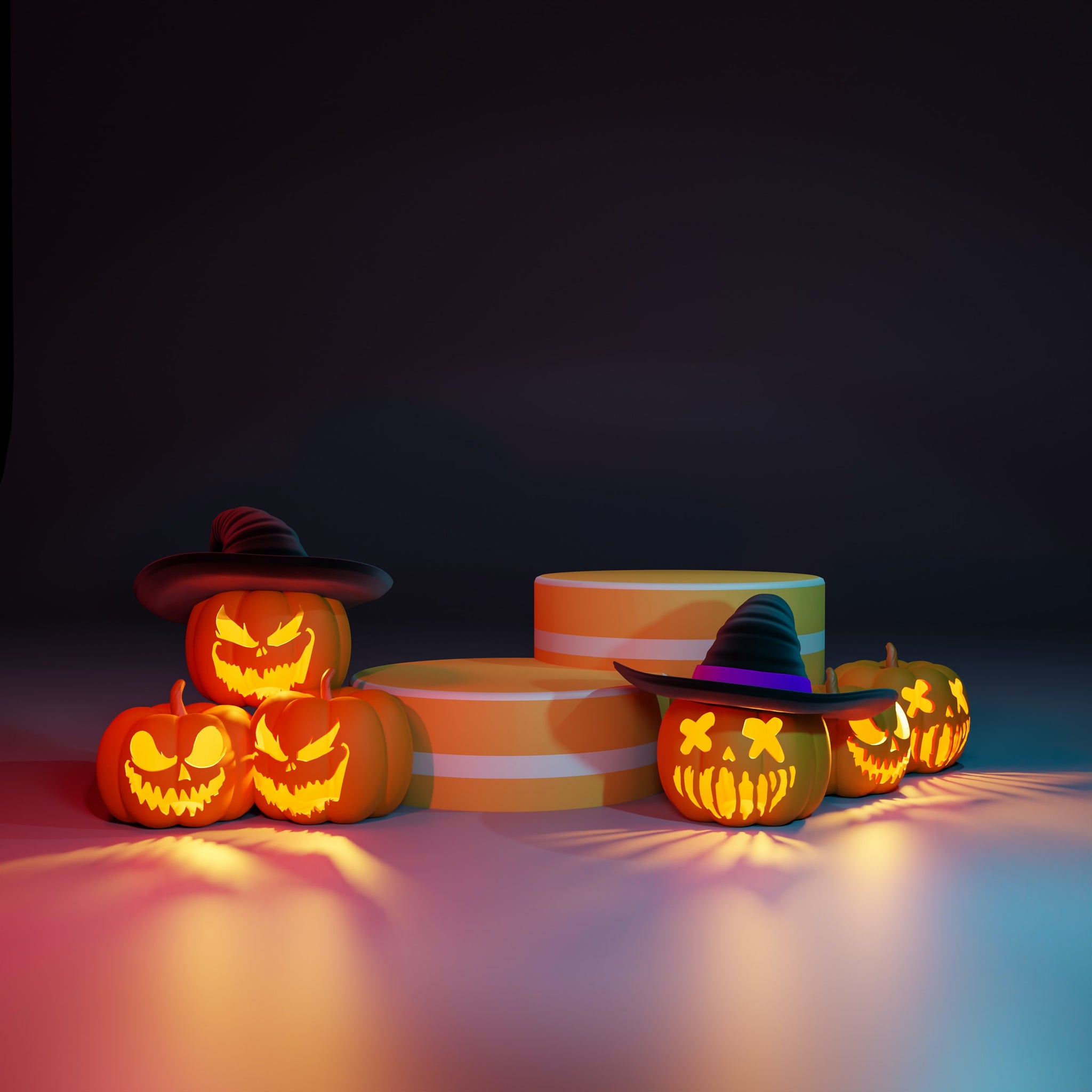 Costume Tips for E-biking while Trick or Treating
Chains and sprockets can be problematic for the baggy clothing and excess fabric found in many of the most popular Halloween costumes, such as a princess or pirate. The cloth may get trapped in the chain while pedaling as the chain moves by the feet of the rider. Before you know it, that costume you worked so hard to make is ruined. That's why the best solution is to use an e-bike without a greasy chain to deal with, such as the HF01 foldable e-bike with a shaft drive.
Not only is there no bicycle chain due to the shaft drive system, which relies on small gears connected by a rod, but the entire mechanism is enclosed and sealed in a tube, meaning it won't "grab" or "pull" on any excess fabric by your feet by accident. This elegant design is extra functional, too, as it requires essentially zero maintenance for the first 50,000+ km ridden. If you don't have an enclosed shaft drive electric bike, the next best thing to do is plan a costume with tight or no fabric around the ankle. You can also use a rubber band or small belt to cinch the fabric close together on the leg, which rests on the side of the bike with the chain. 
With Halloween occurring on October 31st, the weather can be tricky to plan for in America and many European states. You never know if it will be rainy and muddy or bright and sunny. Prepare for any weather scenario by using an e-bike with front and rear fenders to protect your costume from the mud and water that will get caught on the tires and spray your clothes. Fenders are included in the box with commuter e-bikes such as the Honbike U4, as many commuters love the protection this system provides to their clothing as well. 
Finally, if you are the trick-or-treater and rider of an e-bike, plan a costume that can accommodate a helmet, such as an astronaut or pilot, football player, knight, motorcycle rider, or stormtrooper. This way, the helmet will blend naturally into the costume, and you or your kiddos will remain protected at all times while riding. 
Try to take the e-bike for a "test drive" while wearing your costume before the big night and ensure you can safely see your surroundings. Adjust the costume if you do not have good vision or cannot easily breathe due to a Halloween mask or other accessory. This leads us to our next tip for trick or treating with an e-bike – rider safety!
Be Visible on Your E-bike at Night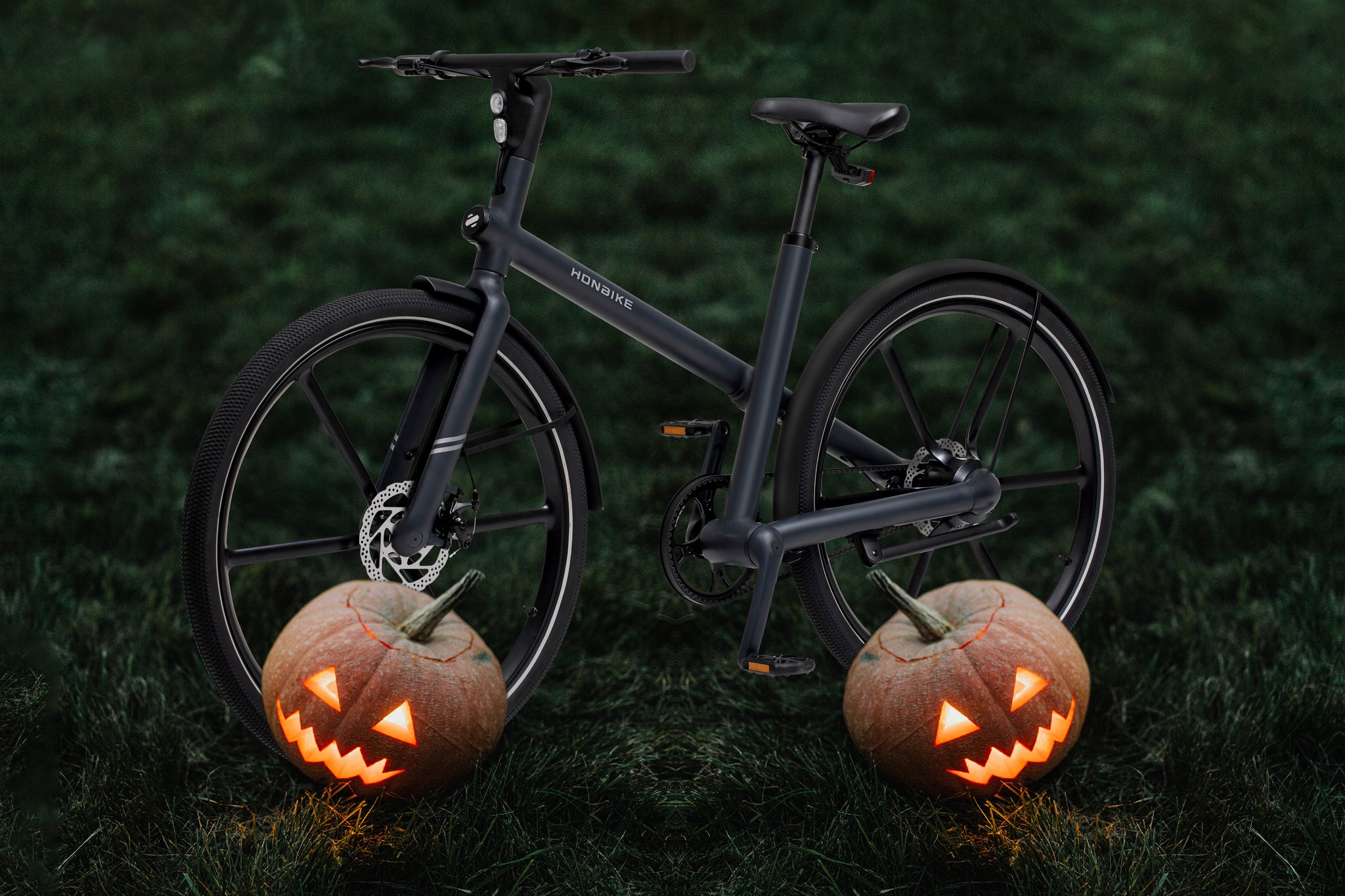 Rider safety is important when the streets are going to be crowded with cars and pedestrians. The following safety tips for riding electric bikes at night will help you remain seen and heard:
Wear bright colors with your costume. If you are simply monitoring your children, still wear a bright outfit of some type. 
Add glow sticks as a thematic way to blend in with other trick-or-treaters.
Test your e-bike lights (both front and rear) prior to the big night.
Slow down and call out to pedestrians if you are passing on either side of them
An optional rearview mirror or bell can be attached to your handlebars
Only plan to visit well-lit neighborhoods with plenty of houses
Use an E-bike Rack to Hold Your Candy
With all that candy to carry, a rack can go a long way, especially if you are a parent tasked with holding onto your kids' candy when it gets too heavy for them to carry. Install a front basket or rear rack to your e-bike to keep both hands on the handlebar and the candy snug and secure until you arrive home.
A lock is another e-bike accessory that will come in handy while you walk door to door on a given road. Lock your bike to a tall street post, sturdy tree, or bike rack, such as those found outside apartments or schools.
Follow Traffic Laws
It can be tempting to cruise through neighborhoods quickly without stopping in an attempt to get as much candy as possible. It's especially fun to ride e-bikes with strong motors and pedal-assist engaged. But be sure to obey stop lights and stop signs, as well as speed limits in neighborhoods. Halloween is an already chaotic night, and many distractions will be present on the road. Set a good example for all the young trick-or-treaters outside by following e-bike traffic regulations for your local city, state, or country. 
At the End of the Night
By using an e-bike, it is likely you will be able to speed through your candy collection process and be able to return home with plenty of time left to spare. Use this extra time to inspect your candy haul and discard any partially opened or visibly damaged sweets. Wash your hands before digging in, and always be of food allergies such as peanuts or walnuts for everyone in your group.
By planning your costume to work with an electric bike, remaining as visible as possible, taking advantage of all the e-bike accessories out there for convenience, and following traffic laws, this year will be one of the most memorable yet. Happy Halloween from all of us here at Honbike!
---
Related Product
---
Share Article